Within the crowded streets of New York City, you will find thousands of pedestrians on foot and thousands more riding their bikes. However, with a combination of so many transportation types intermingling with these walkers and bikers, accidents end up happening.
There are many reasons that these accidents can happen and there are several ways to avoid getting injured because of riding a bike in a crowded city.
According to a recent study, 677 cyclists died in motor vehicle accidents and there was a 9% increase in cyclist deaths between 2010 and 2011. So, what can you do to avoid ending up on the losing end of a bike-vehicle crash? Follow these tips: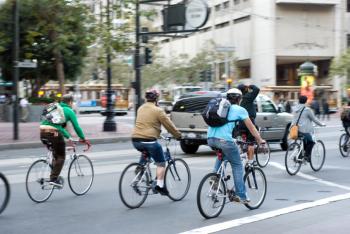 Always follow traffic regulations
Use bike lanes
Use the proper hand signals
Watch for parked car doors opening
Ride with traffic
Ring a bell to alert pedestrians to your presence
Wear a helmet and sunglasses
Outfit your bike with reflectors and lights
Stay alert and don't listen to headphones
To view an infographic that details all of the tips about bicycle safety, please click here.
If you've been injured in a bicycle accident, you may have rights to file a suit. The experienced New York attorneys at Weiser & Associates can help. Please contact our team today to discuss your options. We serve clients in the Bronx, Brooklyn, Manhattan, and all of the surrounding areas. Call us today at (212) 213-3111.