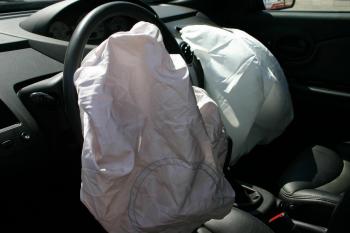 After a woman, Stephanie Erdman, was nearly killed by the very airbag that was supposed to protect her, she and her family are raising awareness and asking why the recall for the airbag hasn't gone nationwide.
There have been 11 million vehicles recalled because of faulty airbags made by the Takata Corporation of Japan. The Airbags can malfunction and cause severe injuries and have already been linked to two deaths. There have been recalls for these airbags since 2004, however the recalls have only been issued in certain states, meaning unsafe airbags are still on some vehicles in the United States.
The Takata company claims they believe that the airbag explosions are more likely to happen in humid climates, so the recall is only being enforced in exceptionally humid states.
These airbags have caused deaths in Virginia and Oklahoma, with an additional one believed in California. However, the recall doesn't extend to Oklahoma or Virginia. Clarence Ditlow of the Center for Auto Safety has joined in the conversation surrounding this recall, saying, "How in the world can you approve a geographic recall that doesn't include the two states where people have been killed?"
After being severely injured by her airbag, Erdman is filing a lawsuit against Honda for not recalling the vehicle sooner and hopes to draw attention to this recall nationwide.
If you've sustained injuries from a defective product or a car accident, please contact our team of New York accident attorneys at Weiser & Associates. We have the experience you need with these types of cases and can help get you the compensation you deserve. Please call us at (212) 213-3111.