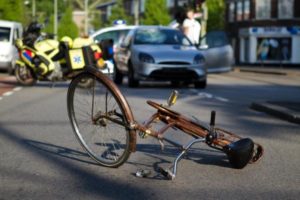 Bicyclists are more vulnerable than other travelers on the road, and bike accidents can have life-altering consequences for injured riders. The New York bicycle accident attorneys at Weiser Law are experienced at helping injured bicyclists pursue the compensation the deserve in these tragic events.
According to the Centers for Disease Control and Prevention, bicycle-vehicle collisions account for more half a million emergency visits every year. Often times, these injury victims incur a lifetime of medical costs as a result of their injuries.
Whether you ride for transportation or recreation, here are three tips (provided by the National Highway Traffic Safety Administration) to help you stay safer on the streets:
Bicycle Safety Tip 1:  Always wear a helmet. Bicyclists who wear helmets are significantly less likely to suffer traumatic brain injuries.
Bicycle Safety Tip #2: Dress for safety. Florescent clothing will help you stand out during the day. Once evening settles, ride with reflective gear and active lighting.
Bicycle Safety Tip #3: Ride defensively. Always follow the rules of the road and watch carefully for safety signage. Use hand signals body language and eye contact to communicate your intentions to other drivers. Travel with the flow of traffic.
If you have been in a serious bicycle accident in the New York area, the experienced attorneys at Weiser and Associates can help you begin to build a case. To schedule your consultation, complete the form on this page or call (212) 213-3111 today.