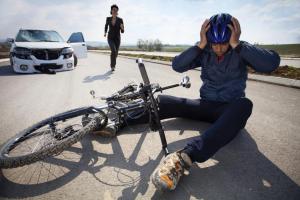 Being involved in a bicycle accident with another vehicle is scary, and the actions you take immediately following the collision are pivotal in building a successful case. The New York bicycle accident attorneys at Weiser & Associates can help you get the justice and compensation you deserve.
As soon as you've been in a bicycle accident, here's what to do:
Remain at the scene until police arrive. Even if you think you weren't injured in the accident, wait for the police to arrive so they can take and file a police report. Bicycle injuries can sometimes take days to emerge. While waiting, don't admit blame or negotiate with the driver.
Ensure your version of events gets into the accident report. The bicyclist's version of the story is sometimes overlooked by police. Do everything possible to make sure your side of the story is included in the police report. And no matter how minor, always report all of your injuries.
Get contact information from the driver and witnesses. Get the driver's name, address, phone number, driver's license number, license plate number and insurance information. If there are any witnesses, obtain their names and contact information.
Document evidence and injuries. Immediately seek medical attention for any injuries, and as soon as you are able, write down the following accident details:
What happened
How it happened
Where it occurred
When it occurred
Road, traffic, and weather conditions
Preserve Evidence. Don't attempt to fix any damaged property or wash your clothing. Preserve everything, untouched, for your attorney.
Contact Weiser & Associates: Our experienced New York bicycle accident attorneys will fight for the justice you deserve and the compensation you need to cover lost wages, medical bills and other damages.
If you were injured in a bicycle accident because of the negligence of another driver, contact Weiser & Associates today by calling (212) 213-3111 or by completing the form on this page to schedule your consultation. We serve clients in Nassau and Suffolk Counties, as well as all five boroughs of New York City.